Buck Stove Parts & Accessories On Sale
Looking for parts for your Buck Stove? You can easily find your Buck Stove parts here.
Buck stoves are the most durable, reliable, and popular stoves. They offer a good source of heat and style to any home.
We have a large selection of the wood, coal, or gas models of Buck Stoves right here. We also have the best selection of parts. Whether it is a mantel, gas line, blower, or one of the many other parts you can find them here.
All Buck Stove replacement parts are made from quality materials, just like the stoves, for durability and dependability.  Whether it is glass, blower motors, firedogs, or any part in between you can be sure it is a quality party and will fit your Buck Stove. We have parts for even the older Buck Stoves like the 26000, 27000, and 28000 models.
Models of Buck Stoves
We sell many models of the popular Buck Stoves from which you can choose. We also sell quality replacement parts for those stoves.
Type your model of Buck Stove and part you are looking for into our site search and you will be taken to a page of parts that you are looking for; as an example, if you type blower replacement for Buck Stove Little Buck 26000 in the search bar you will be taken to the parts page. 
A look at a few of the models of stoves we sell
As we said we several many models of Buck Stoves below are the most popular stoves we sell with a description and list of features.
Buck Stove Model 21ZC Zero Clearance Non-Catalytic Wood Stove is one of our most popular wood stoves. It has a heating range of 800-1800 square feet, making it an ideal choice for a room or a small home. The model 21ZC provides 11,079-28,901 BTUs per hour.  It features a 1.6 cubic foot firebox, a blower, will accept logs from 11" logs front to back or 18" side to side. It is so easy to operate and has low maintenance while providing a 70% overall rating. A three year warranty is issued with this model.
Buck Stove 1127 Vent Free Natural Gas Stove with Prestige Mantel Combo is a beauty. It comes with a five year warranty. Offers a thermostat valve for temperature control, the mantel has a built in side bookcase, and a ceramic log set with glowing embers that looks real. The natural gas provides 25000 BTUs, matchless ignition, ventless, and most important an oxygen depletion sensor for added safety. A 65 CFM heat-activated, variable-speed blower helps push the heat out into the room for a more even heating of the room. And, a thermostat allows you to control the temperature you want. Choose from the following for the mantel Oak, Dark Oak, Black, Cherry, Leather, or Unfinished.
Buck Stove 36" Vent-Free Gas Fireplace With Oak Logs this vent free model is durable, dependable, and affordable. It offers ember vision oak logs, blower assembly, and a five year warranty. Other features include a remote, oxygen depletion sensor, and matchless ignition. This is another one of our best sellers.
Buck Stove NV C329B4EBNAT Model 329 Vent-Free Natural Gas Stove gives warmth to any home with an impressive 33,000 BTU's and variable speed blower. This unit comes with a modulating gas valve or millivolt gas valve for use with a remote control or wall thermostat you have the choice. It can be installed as a masonry fireplace insert, freestanding, or with an optional mantel. It is vent free, has an oxygen depletion sensor for safety, matchless ignition, and a five year warranty.
Buck Stove Model FP42ZC Vent-Free Gas Fireplace this beautiful gas fireplace is sure to add style to any home. It comes with a realistic ceramic log set with a glowing ember bed. You can control it with either remote or thermostat depending on which valve you choose either the modulating gas valve or millivolt gas valve. It provides 33,000 BTUs and has a blower to disperse the heat throughout the room. Also, a five year warranty comes with this unit.
Buck Stove Model 42ZCBBXL Vent-Free Gas Fireplace With Oak Logs is another of our beautiful fireplaces that will add style and warmth to your home. This model comes with a blower, an oxygen depletion sensor, an on/off remote control, a brick liner, and mesh screen doors. It also offers a reliable standing pilot ignition system that can work with a remote control or thermostat and has a two year warranty.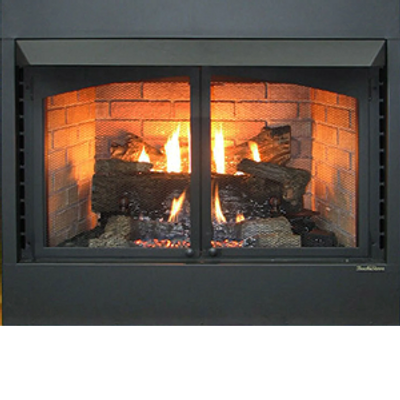 Buck Stove Model 34ZC Zero Clearance Contemporary Natural Gas Fireplace our famous vent free fireplace with blower, thermostatically-controlled gas that generates up to 33,000BTU's for reliably maintaining a set temperature. It has an oxygen depletion sensor, standing pilot ignition, and a five year warranty on the stove body all at an affordable price making this our most popular model. It even works during power outages. It also has a model in propane gas with all the same features.
Buck stove parts
Buck stove parts are available for all models of Buck Stoves. We have Buck Stove replacement parts, Buck Wood Stove parts, and even old Buck Stove parts including Buck Stove 26000 parts, Buck Stove 27000 parts, and Buck Stove 28000 parts.
Buck Stove parts are quality parts at a reasonable price. Built like the Buck Stoves for durability and quality. Parts like the buck stove 26000 Blower Motor, Buck Stove glass, Buck Stove firedogs, Buck Stove andiron, or one of the 1000s of other parts like legs, mantels, rheostats, chimney connectors, and much more.
Buck Stove blower motors replacements Both of these replacement motors are durable and dependable. Just check the blower on your stove; if you cannot see fan blades on the back then you want the motor replacement for the Buck Stove blower motor for Little Buck 26000, Regular Buck 27000, and the Big Buck 28000.
Buck Stove glass replacement can be hard to find the right glass and fit for wood stoves but not the Buck Stove. We have the Buck Glass For Sale. Like all Buck Stove parts, you can be sure this is quality glass that is durable and dependable.  The glass for Buck stoves come in two different styles single door and double doors. Each comes with a new gasket. When you order the glass kit for the double doors the gasket comes packed between the two pieces of glass so do not throw it away thinking that it is packaging material.
Buck Stove Model 91 Catalytic Combustor maybe you're looking for a replacement for the Buck Stove Model 91 catalytic combustor. You will find it here along with many other parts for our Buck Stove models 21, 74, and 81. The catalytic combustor burns the gas and particles that are released from the burning wood. It produces better efficiency, fewer emissions, and an extended burning time that will keep your room warm and cozy.
Buck Stove Andiron or firedogs are quality parts that you can depend on. The firedogs are what you place your wood on inside the stove to provide better airflow for a better burn. It helps create less smoke. We have firedogs for the Buck Stove Firedogs For Buck 26000, the Buck Stove Firedogs For Buck 27000, and the Buck Stove Firedogs For Buck 28000 as well as many other models.
Other parts we sell for the Buck Stoves include:
7" Catalyst Thermometer / Probe for Buck 20, 80, & 91 Wood Stoves
Buck Stoves SIT Copreci Thermocouple
Power Cord for Buck Wood Stoves motors
Ceramic Log Set for Buck Gas Stoves
Piezo 14" Ignitor Wire for Buck Gas Stoves & Buck Log Sets
Piezo Ignitor (Striker) with Nut for Buck Gas Stoves & Buck Log Sets
CPI Retro Kit for Buck Wood Stoves 26000, 27000, & 28000 used along with the single speed blower and adjusted with rheostat knob.
Fiber Baffle for Buck Wood Stoves 21 & 261
Buck Gas Stove ODS S.I.T. Millivolt Pilot Assembly
Catalyst Housing for Buck 20 Wood Stove
8" Stack for Buck 28000 Wood Stoves be sure to

 

order a stack gasket

 

to go with this
Shaker Grate for Buck 24 Coal Stoves
Rear Air Tube for Buck 74 Wood Stoves
Pilot Regulator for Buck

 

Propane Gas

 

Stoves & Buck Log Set
Fiber PO-C-3329 Log Set for Buck Gas Stoves 34, 36, 42, 329 Models
Copreci ODS for Buck

 

Natural Gas

 

Stoves & Gas Log Sets
Pilot Regulator for Buck

 

Natural Gas

 

Stoves & Buck Log Sets
Fan Blade 9 1/4" for Buck 3-Speed Blower
Arched Glass with gasket for Buck Wood Stoves 20, 26, 51, 74, 80, & 91
Buck Door Handle
Buck

 

Gas Fireplace

 

3/8" Burner Flex Tube 6" Long
Carling ON/OFF Switch for Buck

 

Gas

 

Stoves
As you can see we have the largest selection of not only Buck stoves but replacement parts as well. Of course, we also offer many other brands of stoves and fireplaces. Whether you are looking for your first stove, fireplace, or replacement parts you have come to the right place.
Not sure which part is right for your stove? Contact us, please provide the stove model and any serial or model numbers on the stove or old part and we will help you find the part you need. Also, include the dimensions that way we can be sure that the part will fit.
We also offer a 30 Day Satisfaction Guaranteed Return Policy. We want you to love what you buy! But if you don't, we offer a simple "No Hassle Returns" policy. Some items are not returnable and you can find the full return policy on our site.
Need more reasons to buy your stove or replacement parts from us? Besides our 30 day return policy, we offer a price match guarantee, and ordering from us is 100% safe and secure. It's no wonder our customers speak so highly of us. 
Those of some of the many parts on three pages of replacement parts for Buck Stoves you will find here. We have some of the best ratings on shipping and price around. What do customers say?
All I can say is WOW! Extremely Fast Shipping I ordered a Mantel On Monday and it arrived on Wednesday!
Jane P.
Excellent Customer Service and Great Products, I would definitely recommend Fireplace Choice to my friends and family. Keep up the good Work!
Mike W.
Fits perfectly easy to put the replacement in, reasonable price, and has quick shipping I recommend getting your parts here.
Curt A.
They had the part I needed, it was shipped quickly, arrived well packaged, and was so easy to follow instruction on putting it in. Excellent customer service!
Laura H.
Visit us to purchase your Buck Stove and all your Buck Stove replacement parts.
---
← Older Post Newer Post →